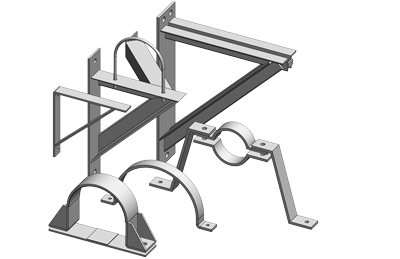 Pipeline Products offers custom fabrication for brackets and straps to secure pipes in any position.
Built to fit any diameter pipe and along any degree of the pipe circumference. custom fabricated brackets & straps are available in 304 or 316 stainless steel, mild steel, bare and hot-dip galvanized.
Product Benefits
• Lower your field installation costs by reducing labor materials for field pipe cutting.
• More secure positioning of your pipe for the long-term
• Several material options to choose from including types of stainless steel, mild steel brackets, bare brackets & straps, or hot-dip galvanized.
• Hot-dip galvanized is an exceptional coating for above-ground applications for aesthetic, atmospheric and corrosion-resistant benefits.
We offer many types of custom fabrication to support pipeline products.
Contact us to get more information on helping you with your next project.